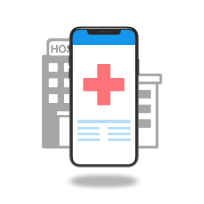 Embodied in the service product DIS-CO ONE we offer an all-in-one solution for mobile transformation in the healthcare market.
The sensitive product character and growing importance of healthcare companies for its customers lead to a unique, industry-specific structure of needs. DIS-CONNECT is primarily focused on identifying these needs and therefore creating interdisciplinary solutions.
Due to an extensive network DIS-CONNECT manages to combine know-how and to design an adequate and customized implementation strategy for the customer. We do not only support our clients in their strategic planning, but also in change management and roll-out support.
DIS-CO ONE – from project planning to implementation, an all-in-one solution tailored to our clients' needs.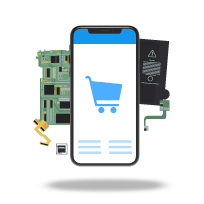 As a reseller we provide a high quality portfolio of spare parts and devices with a focus on the brands Huawei, Samsung and Apple.
In order to ensure the best possible customer satisfaction in the smartphone and electronics industry we have developed exclusive quality standards (DIS-CO Spec's) based on constant, physical measurement parameters.
Because of this, our portfolio includes various quality levels, from A to C grades, from new, original and used to copy. Depending on your needs, we are able to supply spare parts and devices matching any quality requirements.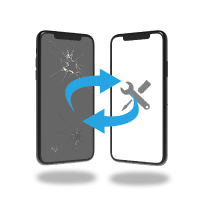 Repair Management & Exchange
Another service in our portfolio is the mediation of in-warranty repairs to our authorized Apple, Huawei, Samsung, LG and Xiaomi partners. Since we work with numerous partners in the authorized repair area, we can process above-average volumes.
We carry out out-of-warranty repairs in-house, taking into account our exclusive quality standards.
Our add-on service: EXCHANGE
In addition to our repair services, we offer a direct exchange for one or more smartphones. A defective device is exchanged for an intact device.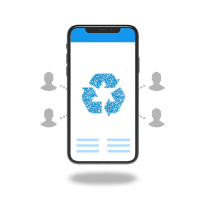 DIS-CONNECT connects market participants and trades numerous product groups on the smartphone and electronics market. Due to the large network, we support our partners in complex sales projects and open up new sales channels for them. Product portfolios consisting of broken and second life devices as well as screens and other spare parts are traded through our channels.
If you would like to be included as a potential customer in our customer pool of regular offers and tenders, please contact us.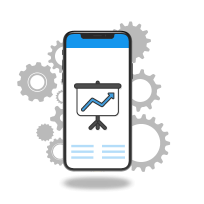 DIS-CONNECT creates an ecosystem for complex challenges in the smartphone industry. Due to the resulting range of expertise, we are engaged in advisory for insurances, carriers, repair centers, resellers and enterprise customers.
We support our clients in digital transformation issues. More detailed, we determine the optimal strategy, as well as action plan and develop tailor-made business cases according to our clients' needs.
Using our network and collaborative expertise we design the ideal solution concept for new business cases.
From the first step in project planning to implementation we are working side-to-side with our client. DIS-CONNECT combines ALL success-necessary disciplines and elements in ONE partner.
For example, are you interested in returning used devices to the market and do not know where and how to start? Then DIS-CONNECT is exactly the right partner for you. Together we take over the planning and implementation of your second life circle.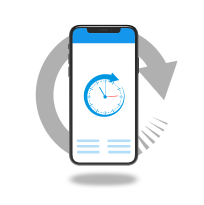 The purchase of one or more smartphones for operational use requires high initial costs. At the same time, the technical standard is developing so rapidly that the latest smartphone models often will no longer be able to meet these standards again tomorrow.
Considering the resulting capital lockup, such purchases seem increasingly uneconomical. DIS-CONNECT offers the option of device leasing at attractive conditions. We put together a comfortable package for each individual requirement regarding:
– Smartphone model and quality – Device accessories and applications – Mobile device management – Device repair or replacement in the event of an accident – Other after sales services
We ensure that each of these elements effectively supports our clients' business case.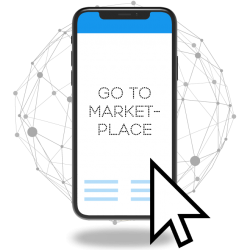 Every retailer or service provider in the smartphone industry knows about the problems in this young and dynamic market. Missing norms, designations, constant quality standards as well as missing central information hubs or transshipment points and many small areas are created neither with an overview, nor a network.
This is exactly where we started and tackled the challenges.
Due to the lack of centralization, it is not possible to find the best price-performance ratio combined with constant quality. Buyers spend hours searching on various websites and literally compare "apples and oranges".
Now we have the solution: the DIS-CONNECT marketplace. On this B2B online marketplace with a rating system, customers can compare and evaluate the goods they have purchased. Every supplier has the opportunity to offer their products and to verify their quality through the ratings of the buyers.
In addition, the marketplace offers numerous features such as an unified complaint system for both parties or the possibility of communicating directly with the trading partner when ordering, without having to search for the order number as a required reference. We optimize your communication channels and support with our large network to find the right trading partner for your current needs.
Through the ratings and independence of DIS-CONNECT, we create a marketplace for serious trade and a trustworthy atmosphere in a fairly unmistakable market.
DIS-CONNECT is the place where supply and demand come together and customer satisfaction is omnipresent.